International Connectivity uses the GÉANT network, of which Belnet is a part. Belgian research and higher education institutions can therefore make point-to-point connections with sites abroad without leaving the research network. We spoke with Brecht Vermeulen of IMEC research group IDLab, which has been using the service for its research infrastructure for years.
Can you briefly explain the research areas in which IMEC is active and exactly what your role is?
IMEC is an independent research centre that is active both in the field of hardware (semiconductors, chip technology) and digital technology platforms (internet connectivity, data science), with both entities collaborating in application domains such as smart health, smart mobility, smart cities, smart education, etc.
I myself work for the Internet & Data Lab research group that falls under both IMEC and Ghent University. IDLab has around 40 professors and about 300 researchers and is active in research areas such as wireless networking, multimedia processing and applications around AI, robotics, and machine learning. To support research, we manage various research infrastructures such as physical robots, cloud infrastructure, a homelab in which people can apply research devices and see how they interact. As the Lab Manager at IDLab, I am responsible for the technical management of all those infrastructures together.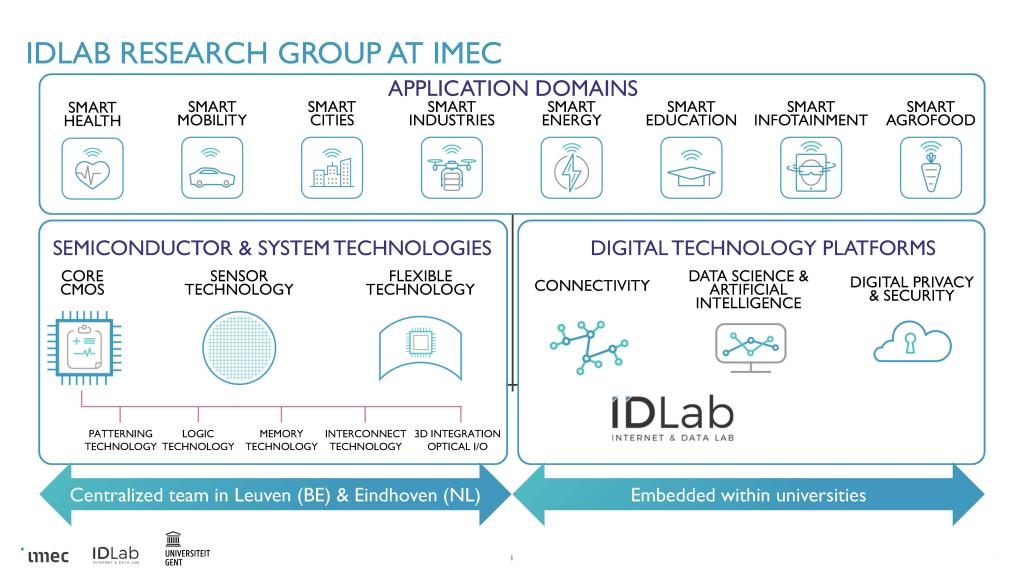 Can you give an example of an international research project that used International Connectivity?
The Fed4FIRE project that started a decade ago and ran until 2022. IMEC itself has a number of testing infrastructures, but similar infrastructures exist in the rest of Europe. About ten years ago, there was a request from the European Commission to make all this infrastructure more easily and uniformly accessible. At that point, we launched the Fed4FIRE project to achieve those goals and we started looking at whether it would be useful to have direct connections at layer 2, because then you can easily have Gigabit connections and fixed bandwidth, or carry out research with new Internet protocols.
We had connections from Ghent not only within Europe, but also to the United States, Japan and even briefly to South Korea. At that point, we could be a central point for various experiments. If someone wanted to set up a connection from a European testbed to the United States, they could easily do it through us. We provided the testing infrastructure and the connectivity between them as needed.
In 2016-2017, there was an experiment in collaboration with the United States. The IMEC site in Ghent was connected to a few European testbeds that offered Cloud resources and we were connected to Internet2 in the US as well as to the Washington Exchange. That way, we had a triangular connection. A number of American testbeds with a link to one of Amazon Web Services' data centres were also involved. The purpose of this experiment was to provide a kind of "avant la lettre" Netflix where we had video streaming back-ends both in Europe and the U.S. and where we emulated users who then streamed videos. We wanted to look at what happened to traffic when we interrupted one of the major links and how caches could be optimised across sites. This experiment would not have been possible then with commercial infrastructures. A total of about 1,000 different servers were involved in this experiment.
What do you regard as the main advantages of the International connectivity service?
The main advantage is dedicated bandwidth, having the assurance that a Gigabit connection can be used as such. As well as the latency that is always the same and the fact we can test out other Internet protocols independently of existing protocols like IPv4 and IPv6.
And finally, that we could set up the connection in a flexible way. We have a dedicated 10 Gigabit link to GÉANT and we use VLANs there to split up connectivity ourselves. If different experiments are running in parallel and they do not need the full bandwidth, we can use VLANs to assign parts of it to different experiments.
Are you going to use International Connectivity for future projects ?
Yes, a new project, SLICES, was launched after Fed4FIRE. That project falls under ESFRI funding for large research infrastructures, other examples being the PRACE supercomputer and the CERN collider. SLICES focuses specifically on computer science and communications. A very long-term view - up to 2040 - is being adopted in respect of further-roll out of SLICES Europe-wide. The goal is to use existing infrastructure as well as new infrastructure, with connectivity becoming even more important. One of the case studies is around 5G, 6G. For example, to have the radio network locally and have a central core network requiring high bandwidth connections to the various radio sites. All purely experimental, we are not going to roll out an operational 5G service. But to take the next steps towards 6G or beyond with very specific user devices, for example, on university sites. We try to offer what cannot yet be offered commercially.
Originally, we had 2x 1 Gigabit and that was upgraded to 10 Gigabit about two months ago, but I suspect this could go up to 100 Gigabit or more in 20 years.
What was collaboration with Belnet like ?
We had an agreement with Belnet to have a dedicated link up to the GÉANT network and when we wanted to set up additional VLANs, Belnet didn't have to do anything, that was a transparent line. GÉANT then had to set up the VLANs to France and Amsterdam, for example. It was the first time Belnet set up the International Connectivity service in that way, and it helped us move forward very well. We were very pleased with the flexibility and understanding of the technical people in terms of exactly what we wanted and the speed with which everything was set up.
Did you find this news interesting?