Blockchain is the future. This technology is transforming our society. This is why the European Commission and the European Blockchain Partnership are building the European Blockchain Services Infrastructure (EBSI), striving for blockchain technology serving European citizens with services based on European values. The Early Adopters programme and multi-university pilot are showing how Europe's emerging Blockchain Infrastructure will look in practice. 
Since 2018, 29 countries and the European Commission have joined forces to form the European Blockchain Partnership (EBP). They have committed to working together towards realising the potential of blockchain-based services for the benefit of citizens, society and the economy.
Using blockchain, citizens can set-up digital wallets and manage their identity - and other - credentials across borders. Citizens can also gain digital control of their educational credentials, significantly reducing verification costs and improving trust in documents' authenticity.
The Commission is working with EU Member States (and beyond) to build the European Blockchain Services Infrastructure – EBSI. Through this infrastructure, Blockchain technology will entirely transform the identification of verifiable credentials in Europe, especially across borders based on principle of 'Self-Sovereign Identity'. A multi-university pilot is now showing us how it will look in practice.
As of 2020, EBSI is deploying a network of distributed blockchain nodes across Europe, supporting applications focused on selected use-cases. Belnet and Smals have set up the Belgian component in this European infrastructure. EBSI is the first EU-wide blockchain infrastructure, driven by the public sector, in full respect of European values and legislation.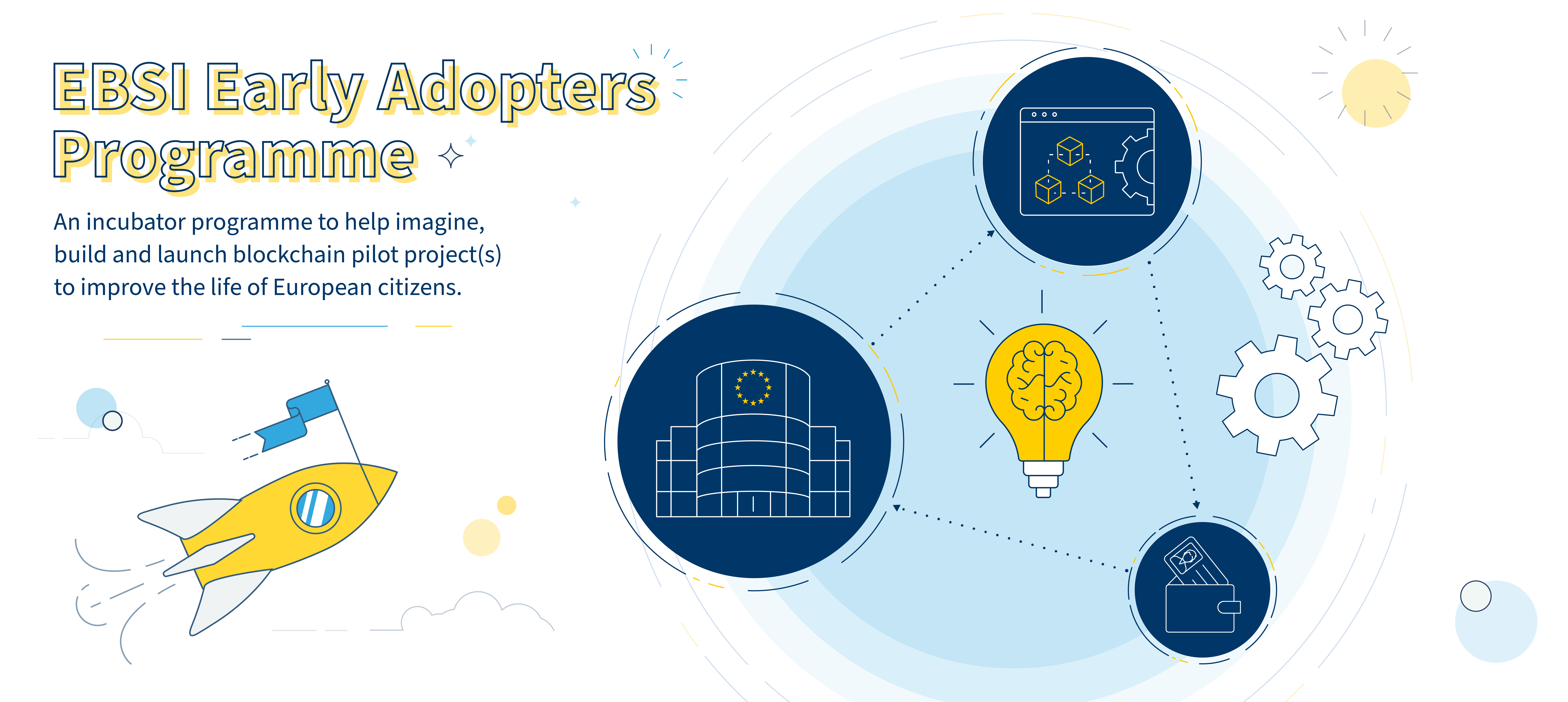 The Early Adopters programme
In 2021, 22 projects were selected to become part of an incubator programme, known as the EBSI Early Adopters, helping the first EBSI users and their partners imagine, build and launch their pilot project(s). The EBSI team gave each project's private and public sector partners early access to the EBSI pre-production environment and invited them to develop their own pilot project(s) addressing a specific business or government use case involving the exchange of verifiable credentials.
In early 2021, the Early Adopters programme started working directly with Member States to implement EBSI use cases (Self-Sovereign Identity (SSI), Diplomas, Traceability and Trusted data sharing) and build an ecosystem with some really outstanding real-life examples that will lead to the full rollout of EBSI.
Piloting EBSI in the education sector: the multi-university pilot
The EBSI Early Adopters have been challenged to test their different pilots in a real-life setting by taking part in the multi-university pilot. This allows them to test the interoperability of their solutions with other key actors in the ecosystem to allow for the exchange of verifiable credentials by students and universities: trusted accreditation organisations; trust issuers; holders of credentials; wallet providers and other partners.
The pilot's scenario will demonstrate that the EBSI can implement cross-border verification of educational credentials based on Self-Sovereign Identity (SSI) principles. This means that a verifiable attestation (such as a diploma) issued by one Member State will be verified by a university or third party, an employer for example, from another Member State. Over a period of four months, ending in early November, the Member States and their partners have been working to deliver all the required functionalities to make this scenario a reality.