It is time for us to take a look back at a year marked by the health crisis, but much more besides.
In 2020, many of you read our monthly newsletter, whose content has become even more powerful than it was in the past. Indeed, our editorial team has written and published 66 articles on our website. So as a review, we suggest counting back the months to look at the articles and subjects that attracted the most attention.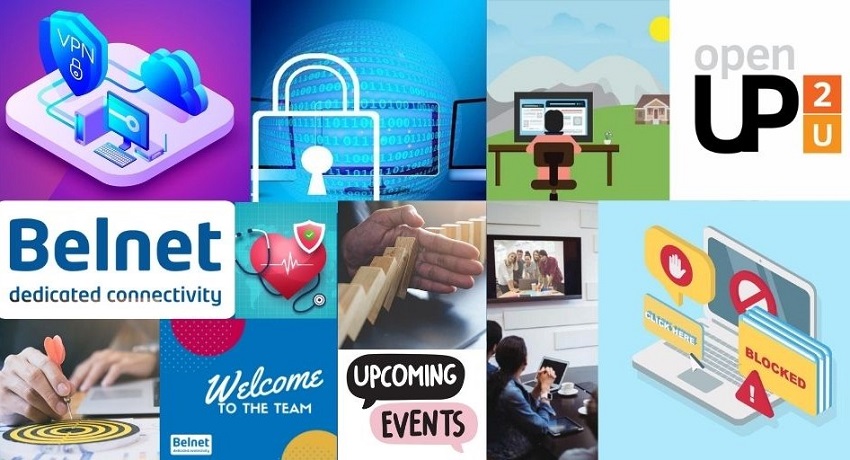 November: 2020, our ambitious network reorganisation project came to an end
Last month, we announced the end of the network reorganisation project. Belnet has succeeded in significantly improving the stability, redundancy and performance of its network. This project was launched in 2017, and we invite you to rediscover the details. (Read more).
October: offer secure access to your organisation's protected system with EduVPN
This is a tool you could find very useful, particularly during exam periods or times of intensive connection by your users. As well as being an open source community project supported by GÉANT, EduVPN allows all R&E organisations to enjoy exclusive access to their network. Increased security is particularly necessary during lockdown and intensive remote working. (Read more).
September: Belnet continues to recruit, even during the crisis
Dirk, William and Freya some of the new Belnet employees recruited during lockdown, tell us about their first few weeks at Belnet. Their introduction was unusual, to say the least, and they talk about it here.
June: secure your email traffic with BAMS
We introduced our BAMS service to you just before the summer holidays. It is a more advanced electronic security platform than our former Antispam Pro service. Belnet Advanced Mail Security is equipped with antivirus, anti-malware, data leak protection (DLP), identity-based encryption (IBE) and anti-blacklisting. If you are interested in this new solution, you can find all the information you need on our service page, Admin FAQ and Technical FAQ.
May: a new CISO is appointed to Belnet
Security is one of our key strategic objectives. With the appointment of a Chief Information Security Officer (CISO), Belnet has moved up a level in the area of information security. This is a more structural and coordinated approach to security and we invite you to read the details again. (Read more).
April: e-learning tools from GÉANT
Just a few weeks before the first lockdown in Belgium, our April newsletter was the year's most read edition. It put the spotlight on the GÉANT remote learning platform: OpenUp2U. This open source platform that comprises e-learning tools such as Moodle, eduMEET, SWAN and CERNBox, remains available to all colleges and universities in Europe throughout the COVID-19 crisis. If you are interested in these tools, please visit the OpenUp2U website.
March: Belnet takes measures to deal with the crisis
Following the announcement of the coronavirus crisis, Belnet introduced a plan to guarantee the continuity of our services and provide suitable incident management for clients playing a crucial role in following up the fight against the coronavirus. You can find all the measures taken by Belnet in this article. (Read more).
February: we announced the name of the new certificate supplier: Sectigo
A particularly popular article this year was the announcement of the transition from DigiCert to the new certificate supplier Sectigo. Although this transition was not entirely painless, most of the problems we encountered have now been resolved. Please consult our knowledge database if you have any questions about the DCS service.
January: a new events policy
In January, the article on the new events policy commanded considerable attention. Despite the crisis and the fact that it has been impossible to organise in-person events, seven online events were held in which many of you took part. This is an encouraging sign which we intend to build on in the future while we wait to see you again soon in person, we hope.
Throughout this unprecedented and demanding year, it has been essential for us to redouble our efforts to keep you as well informed as possible. We will stay on track for 2021 in terms of publication and we would like to thank so many of you for reading our newsletters. It is now time for us to wish you a wonderful end-of-year holiday and send you our best wishes for the New Year.