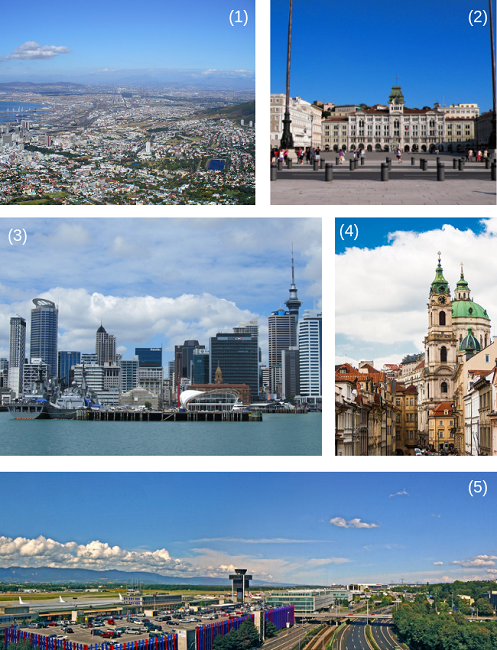 (1) Cape Town
Dozens of eduroam hotspots can be found in Cape Town, including the South African Astronomical Observatory (SAAO). This national centre for optical astronomy was founded in 1820 and is situated in the city's southern suburbs.
(2) Trieste
If you're planning a city trip to Italy and looking to avoid the masses in Rome or Milan, the city of Trieste in northern Italy is an excellent alternative. No need to make your way to the university for a hotspot: we've recently added an eduroam connection at the centrally located Piazza Unità d'Italia.
(3) New Zealand
You can enjoy a secure connection with the home front even when venturing to the other side of the world. You'll find several hotspots, including the University of Auckland's urban campus.
(4) Prague
Those roaming Prague this summer can get the rundown on the hottest tourist attractions directly upon arrival at the central train station.
(5) Geneva Airport, Switzerland
Did you know that eduroam is available in more than 20 airports worldwide? Perfect for relaxing before your flight and checking your emails one last time before boarding. Check out the list of airports with eduroam hotspots.
eduroam in Belgium
Don't have any plans to travel this summer or are you just planning a staycation? No problem; connect to one of the 205 eduroam locations in Belgium. An impressive 64 organisations connected to the Belnet network utilise this roaming service. An average of 17,300,000 access requests for eduroam in Belgium per month is proof of the service's popularity among Belgian students and researchers. This can reach up to 25,000,000 access requests per month during peak periods.
All locations in a single app
The eduroam map displays all available eduroam locations. The British education and research network JISC also launched a convenient app. The 'eduroam companion app' directs you to the nearest eduroam hotspot. You can download the free app in the App Store or the Android Market.